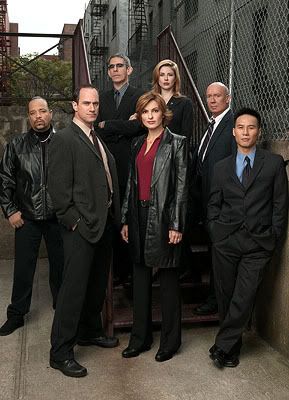 Generally speaking, people don't get too excited when their neighborhood is the scene of a crime. Residents are usually even less enthusiastic when this is the second such incident in the span of a month. The one exception, however, is when that crime scene is of the fabricated variety and featured on Law and Order.
Yes, Battery Park is once again hosting a
Law and Order
shoot, this time the Special Victims Unit will have to crack the case. We're not exactly sure what the episode will be about or when it will air (the Museum is sadly not hosting any part of this one) but we'll certainly keep you all posted. Betsy and I sought in vain to find the cast in action on our lunch break: we were a bit early, so we were only able to see the hardworking crews just beginning to set up. Our dreams of meeting Christopher Meloni or Mariska Hargitay were crushed, so it seemed only fair that we comfort ourselves with frozen yogurt from Flurt.
Stabler and Benson
would approve.